6 Electrical Panel Enclosure Design Tips for Industrial Controls
by Simcona on Mar 13, 2023 9:59:31 AM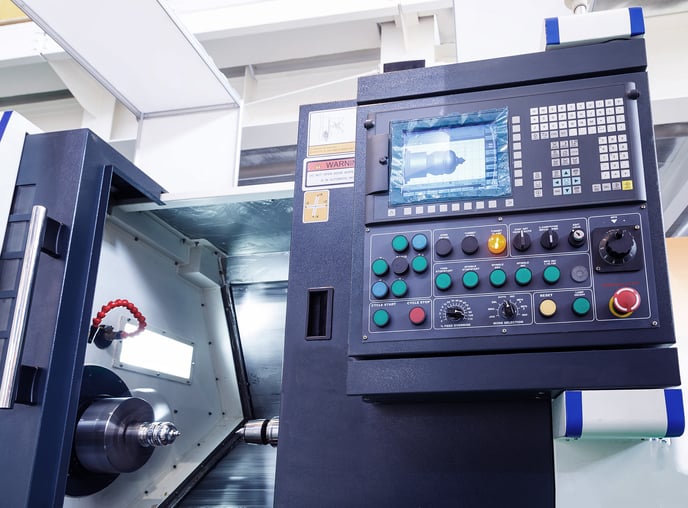 If you fail to plan, you plan to fail.
Whether you build control panels in-house or outsource the manufacturing, it's important for the buyer and user to understand the "why" behind the enclosure's design.
Yes, we're specifically speaking of the boring-looking metal box on the outside. Don't think of enclosures as trivial, interchangeable parts – what works for a server rack may fail horribly for mining equipment.
These six electrical panel enclosure design guidelines will ensure your precious equipment reaches the life expectancy you have in mind.


Buying an Electrical Panel Enclosure That Matches Your Design
A good design accounts for regulatory and application needs both physical and electrical:
Ratings & standards
Environment
Heat
Space – now and later
Integration & accessibility
Installation


1. Ratings & Standards
Organizations worldwide have built strict standards and regulations to ensure that enclosures protect components and people from the dangers of compromised electronic devices.
If you're sourcing through a contract manufacturer, make sure it has UL508A certification for control panels. UL-rated enclosures must pass strict independent testing. Making wiser design choices through adherence to UL standards can reduce expensive customizations later.
Both parties should also follow IEC's minimum requirements for product safety, as well as National Electrical Code (NEC) listing requirements for safe installation of wiring in the U.S. Finally, consider any other organization's standards (like RoHS and REACH) for your target market.
NEMA ratings, self-certified by the manufacturer, also provide helpful electronic enclosure design guidelines by clearly defining types of box builds and where to use them. To summarize:


Electronic Enclosures (Non-Hazardous Applications)
| | | |
| --- | --- | --- |
| Enclosure | Location | Features |
| Type 1 | Indoors | Basic protection from dirt, dust, & falling objects |
| Type 2 | Indoors | Type 1 + dripping and splashing protection |
| Type 3 | Indoors & outdoors | Safe in outdoor weather, including ice and windblown dust in some variants |
| Type 4 | Indoors & outdoors | Type 3 + protection against hose-directed water. |
| Type 5 | Indoors | Dust-tight |
| Type 6 | Indoors & outdoors | Types 1-5 + protection against submersion in up to 6 ft. of water |
| Type 12 | Indoors | Protects assembly from dust, fibers, oil, and coolant |
| Type 13 | Indoors | Type 12 + protection from oil and coolant splashing and spraying |
Electronic Enclosures (Hazardous Applications)
| | | |
| --- | --- | --- |
| Enclosure | Location | Use |
| Type 7 | Indoors | Contains an internal explosion and protects against submersion in water |
| Type 8 | Indoors & outdoors | Additional protection from dripping and splashing corrosives; prevents combustion through the use of oil-immersed equipment |
| Type 9 | Indoors & outdoors | Prevents ignition of combustible dust; endures strong jets of water |
| Type 10 | Outdoors | Built to meet MSHA electronics requirements; contains internal explosions, remains dust-tight, and protects against rushing water |
You can fabricate Type 1 by following UL508A guidelines. All other types are usually purchased from a dedicated manufacturer, or custom fabricated and tested for a particular rating.
No matter your classifications, make sure they're printed on a metal plate and attached to the enclosure for quick identification.


2. Working Environment
Any UL safety rating or NEMA classification your enclosure has should influence your material and design choices. Much of that comes down to the product's need for:
Outdoor use
Water resistance
Dust & solid contaminants-proofing
Hazardous-conditions rating
Explosion-proof rating
If the overall installation will reside in a hazardous or classified location included in Articles 500-506 of NEC installation requirements, the enclosure must offer additional protection.
The long and short is that your assembly should stay dry, clean, and isolated from interference. Material choice goes a long way toward that:


Electronic Enclosure Materials
| | | | | |
| --- | --- | --- | --- | --- |
| | Carbon Steel | Galvanized Steel | Aluminum | Stainless Steel |
| Corrosion Resistance | Low | Moderate | Good | High |
| Impact Resistance | High | High | Low | Moderate |
| Ability to Modify | Difficult | Difficult | Easy | Difficult |
| Magnetic? | Yes | Yes | No | Yes |
| Thermally Conductive? | No | Low | High | No |
Stainless steel panel enclosures are best for many industrial applications due to the material's strength and superior corrosion resistance vs. carbon steel. Painting a plain steel enclosure offers cheap protection, but it won't last long in many industrial uses.
Aluminum enclosures may be more cost-efficient for protecting industrial control panel components that'll be subject to a low-to-moderate moisture or dust levels.
To extend your industrial enclosure's life span, specify a custom finish like anodizing (for aluminum) or powder coating (for any of the above). Ask a control panel enclosure manufacturer which combination of material and finish will best meet your project's quality and budget needs.


3. Heat
No matter the exterior environment, any enclosed device must manage its heat output.
A strangely overlooked part of industrial control cabinet design is the heat generated within the panel. The control panel builder may need to install extra cooling features depending on.
The temperature rating of components inside the enclosure
The heat output of those parts
The thermal conductivity of your enclosure's materials
There are many ways to manage heat in an electronic device:
Material selection – aluminum alloys dissipate heat better than stainless steel
Air conditioning
Exterior color
Compressed air cooler – typically a self-contained vortex tube that injects cold air
Heat sink
Sun shield
Back panels with internal vents
Increased enclosure size – see #4 for more
Heat isn't always a bad thing. Warming features may be necessary for cold locations, or for humid locations where you need to increase the interior temperature just enough to stop moisture buildup.
One more underappreciated aspect of thermal management: planning for modifications. If you might add features later to a panel, consider the heat generation of these new components. It's often more efficient to account for that earlier in the design process, rather than trying to play catchup.


4. Space & Future-Proofing
We often call them safety enclosures, but when it comes to spacing, safety is far from the only quality an enclosure's design influences. Proper spacing is also essential for:
Accurate readings
Heat efficiency
Installation & access
Expansion
The number of doors necessary (usually 1-2) often determines the overall size of an industrial enclosure. You'll also have to consider the minimum and maximum dimensions for meeting the manufacturer's (even if it's you) design-for-manufacturability requirements. Modeling the box build with 3D software helps stamp out space and interference concerns.
Obviously, the enclosure must be big enough to fit the components inside, and the enclosure itself must fit in your available installation area. Some manufacturers recommend that 20% of the enclosure's area goes to spare space, depending on your application.
Consider this checklist for proper sizing:
Allows proper space between components without overheating or hampered functionality?
Allows sufficiently sized wire ducts?
Allows proper space between cable entry and ducts or components?
Enough space around the panel's edge?
Easy to access key components?
Allows for ideal grouping of signal types?
Enough internal working space for operators?
Touch safety of parts greater than 50V (AC parts) or 60V (DC parts)?
All that advice is great for today, but what about when you want to adapt or expand your enclosure to meet new needs? If there's room for it to grow, leave room for the enclosure to grow too.
One example is the increasing reliance on the Industrial Internet of Things (IIoT) for machine connectivity. Not all IIoT technology is software-based – you may want to leave room in the control panel to include new "smart" hardware.


5. Integration & Accessibility
What (and who) is going in and out of the enclosure?
Entry and exit points matter to both operators and components.
Component access into and out of the panel comes with a few design to-dos:
Most applications need sufficiently sized cable-access holes on the top and bottom of the box. For power cables, knockouts in the front and back of the frame are also wise.
When using air conditioners or fans, direct warm air out the top of the enclosure and bring cool air in from the bottom. This aids the natural convective transfer of heat.
If switches and buttons will penetrate the enclosure, you'll likely need to seal the area.
Operator-access factors for control cabinet design may include:
Handles, through-door disconnects, and interlocks can provide tagout points for extra safety. They prevent the door from opening until the user turns off the external power.
The ability to move lift-off and reversible doors out of the way speeds up equipment installation. After installation, access to interior devices and cabling will be easier if your enclosure uses side panels the operator can remove from outside.
Remember that accessibility can have a financial impact. Removing doors and struggling to work around tight spaces are time-consuming tasks. Consistent and obstruction-free design across assemblies – meaning they don't require forklifts, cranes, or multiple workers to manage – save time and money.


6. Mounting & Installation
The NEC is a good guiding light for proper control panel installation.
In the United States, panel enclosure installation requirements generally come from the NEC or the National Fire Protection Agency's NFPA 70 standard. These standards lay out the design practices that lead to safe installation:
Wire size
Spacings
Permissible equipment
Poor configuration of the installation – from mounting to wiring to integration – can cause machine downtime and operator injury.
Your enclosure's size and purpose will influence the success of the installation method:
Floor-mounted – common for large or heavy enclosures
Wall-mounted – for small designs and saving floor space
Wall standoffs and floor-mount legs – for cleaning access in sanitary applications
There are kits available that let you group cabinets into a modular "suite." Advantages of this include higher stability and easier cable management. Your box build manufacturer should help you determine whether your enclosures are worth grouping and which kit will work best.


The Assembly's Role in Operational Efficiency
Enclosed industrial control panels are a specialty product. Buying or designing one successfully means more than simply picking some parts and bolting them onto a box.
To best balance performance and cost, consider how your requirements and environments play off each other. For example, you may need extra airflow in an enclosure with compact dimensions. But what if you want to add features later?
Getting the enclosure right the first time saves you money up-front as well as later when you experience fewer repairs, upgrades, and downtime. To really hit the mark with your design, you might benefit from involving outside experts who can streamline the process.
To learn more about the role of electronics in your operational efficiency, visit our resource hub:
No Comments Yet
Let us know what you think