Cable Jacket & Insulation Material Comparison Guide
by Simcona on May 1, 2023 11:53:10 AM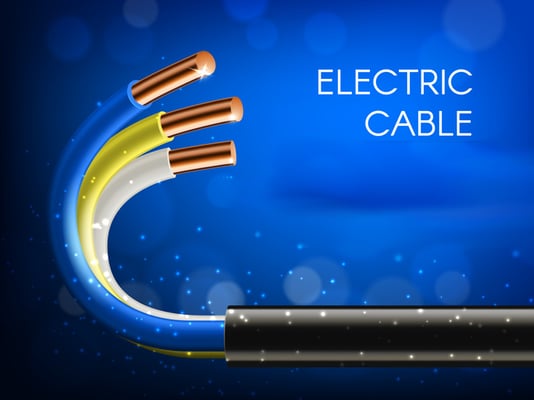 With hundreds of types to consider, picking the right cable is tricky. After you've narrowed your options based on basic needs, there are still dozens of material choices for the protective jacketing and insulation.
Depending on the end-use environment, your project may need to fend off corrosion, mechanical wear and tear, moisture, and extreme temperatures. On top of that, you've got cost and component supply availability to consider.
A little cable jacket and insulation material comparison pre-shopping will ensure your supplier puts the right type of protection in your industrial assembly.


Cable Material Comparison: Jacketing vs. Insulation
Cable jacketing is the outer layer that protects all other components from moisture, chemical, and mechanical hazards. Jackets' side jobs include adding flexibility for installation and color-coding for easy identification.
Cable insulation is the non-conductive covering attached to bare wires to separate conductors from each other, both physically and electrically. It not only protects against current leakage; it also offers a second layer to fight heat and moisture.
A cable's insulation material type can influence the overall electrical properties of the cable. For example, an insulation's thickness determines voltage rating, and its ability to withstand high temperatures means it can carry more current without failing.
Jacketing and insulation share many materials, most of them derivatives of rubber or plastic. However, not all insulation materials can be used for jacketing.


Key Properties of Cable Insulation & Jacketing Materials
There are three main branches of cable jacket and insulation material: thermoplastic, thermoset, and fluoropolymer. (We'll discuss them further below.) Each has its own family of materials, and manufacturers offer product variations on each material.
It's a lot to take in. Above all else, watch for these traits that may influence performance in your application.
Flexibility – This helps with ease of installation in a rigid environment. It's also important in dynamic applications (i.e. a robotic arm), as an inflexible cable would degrade quickly and limit nozzle movement. Rigid cables, however, may be more durable than flexible ones.


Environmental durability – Many industrial cable applications require the ability to withstand some combination of moisture, chemicals, oil, fire, and UV light.


Thermal properties – Cable materials have varying performance in both hot and cold. You don't want your cabling to melt or become brittle in extreme conditions.


Stripability – Some materials are easier than others to remove. Consider this trait if you might later need to terminate or slice a cable.


Thermoset Cable Materials
| | |
| --- | --- |
| Affordability 🤑 | Medium |
| Heat resistance 🫠 | High |
| Cold resistance 🥶 | Medium-High to High |
| Flexibility 🤸🏽 | Medium-High to High |
| Durability 💪 | Low to High |
| Stripability 👣 | Low to High |
Thermoset materials consist of basic polymers that are cured or vulcanized to form a cross-linked structure. Once a thermoset has been cured, you can't remold it, which makes it a more heat-resistant jacketing material in high-load and short-circuit situations.
This quality makes thermoset cables the popular choice for circuits prone to a conductor overload.
Other benefits include:
Burns to an ash with no drip when exposed to flame
Extra-resistant to damage during challenging installations
Longer service life in harsh applications
Oil- and chemical-resistant
Thermoset jacketing and insulation is common in:
Heat treating
Glass and ceramic kilns
Foundries
Aluminum processing


Common Thermoset Jacketing & Insulation Types
Neoprene (Polychloroprene)

+ Resists aging due to sunlight and water
+ Oil- and grease-proof
+ Withstands wear and tear thanks to high flexibility
- Limited safe-temperature range

Rugged environments
Mine trailing & dredge cables
3 core neoprene subtype is popular for connecting appliances to outlets

Ethylene Propylene Rubber (EPR)

+ Excellent heat, abrasion, and corrosion resistance
+ Withstands temperatures down to -60 °C
+ Some products have above-average flame retardance

Marine
Power cables
Mining
Motors

CPE – Thermoset Version

+ Excellent physical properties
+ Resistant to ozone and UV degradation
+ Some products withstand prolonged water immersion
+ Resistant to most oils, chemicals, and other corrosives
+ Cheaper than CSPE

Hygienic washdowns
Chemical plants
Burial applications

Thermoplastic Rubber (TPR)

+ Resistant to a broad range of temperatures
+ Resistant to UV radiation and physical wear
+ Surprisingly flexible

Control cables
Medical
Robotics
Automotive

Styrene Butadiene Rubber (SBR)

+ Better hot/cold resistance than neoprene (-55 to 85 °C)
+ Excellent abrasion resistance

Insulation for Mil-C-55668 cables

Silicone

+ Flame retardance meets NEC cable jacket ratings
+ Heat resistance up to 180° C
+ High flexibility

Electrical
Medical
Aerospace
Heating systems

Fiberglass

+ Survives in temperatures up to 482 °C.
+ Resistant to water and chemicals

Heat treatment
Foundries
Glass and ceramic kilns
Aluminum processing

Chlorosulfonated Polyethylene (CSPE)

+ Good chemical, abrasion, oil, and UV resistance
+ Works in broad range of temperatures up to 105 °C
+ Good electrical properties
+ High color stability
- Not environmentally friendly

Motor lead
Appliances
Transformers

Ethylene Propylene Diene Monomer (EPDM)

+ Low conductivity
+ Extremely flexible
+ Works at temperatures from -45 °C to 150+° C
+ Resistant to heat, weather, and abrasion

Appliances
Lead wire for motors, transformers, coils, and solenoids
Electrical
Thermoplastic Cable Materials
| | |
| --- | --- |
| Affordability 🤑 | High |
| Heat resistance 🫠 | Low to Medium-High |
| Cold resistance 🥶 | Low to High |
| Flexibility 🤸🏽 | Low to Medium-High |
| Durability 💪 | Low to High |
| Stripability 👣 | Medium-High to High |
Thermoplastics is a branch that includes a few well-known options: PVC and polyurethane cable jackets.
A thermoplastic is a material that changes hardness during heating and cooling. In extreme-temperature applications, this could mean the cable becomes deformed, decreasing its physical properties.
On the plus side, these cheaper materials are often easier to strip, which makes large-volume application more efficient (i.e. for automation equipment).
Other benefits:
More economical for low-intensity use
Lightweight
Great colorability for easy-to-ID cables in low lighting
Better electrical properties
Thermoplastic jacketing and insulation is common in:
Medical applications
Food & beverage industry
Military purposes
Industrial power plants
Interior spaces either beneath raised floors or above dropped ceilings
Marine and low-temperature environments
Power & control cable applications
CPE cable insulation displays


Common Thermoplastic Jacketing & Insulation Types
PVC

+ Widely available
+ Best price point among low-voltage range
+ Resistant to moisture and salt water
+ Excels as insulation
+ High strength
- Some products aren't oil-resistant

Control tables
General industrial use
Production & assembly lines (medium-stress applications)
Direct burial
Washdown

Thermoplastic Polyurethane (PUR/TPU)

+ Halogen-free
+ High tensile strength
+ Good abrasion, cut-through, & tear resistance
- Limited flexibility

Paint industry
Automotive industry
Medical
High-movement applications

Polyethylene (PE)

+ High insulation resistance
+ High moisture resistance
- Not flexible
- Flammable

High-speed transmission
Exposed work & extreme environments
Burial

Thermoplastic Elastomer/Rubber (TPE/TPR, Santoprene)

+ Halogen-free
+ Flexible
+ Excellent cold resistance (down to -125 ⁰C)
+ Mechanically durable
+ Resistant to UV, oils, & chemicals

The harshest environments!
High-movement applications
Automotive
Electrical
Health care
Appliances

Chlorinated Polyethylene (CEP) - Thermoplastic Version

+ Excellent moisture, UV, & oil resistance
+ Flame-retardant
+ Withstands high temperatures

Power & control
Instrumentation
Fluoropolymers
| | |
| --- | --- |
| Affordability 🤑 | Low |
| Heat resistance 🫠 | High |
| Cold resistance 🥶 | Medium-High |
| Flexibility 🤸🏽 | Medium-High |
| Durability 💪 | High |
| Stripability 👣 | Medium-High |
This family of plastic resins is known for its toughness. For example, fluoropolymer insulation boasts high resistance to acids, solvents, and bases that corrode cables.
Other benefits include:
Miniaturized design with high dielectric strength, allowing for thinner walls
Steady electrical performance, even with thin walls
Difficult to crush or cut
Fluoropolymer jacketing and insulation is common in:
Military
Aerospace
Electronics
Automotive
Appliances
Automation
Critical building construction
Confined areas (i.e. tunnels, transit, & submarines)


Common Fluoropolymer Jacketing & Insulation Types
Perfluoroalkoxy (PFA)

+ Enhanced electrical efficiency due to low dissipation factor
+ Withstands temperatures from -65 to 250 °C
- Costlier than other insulation choices

Automotive gas sensors
Lab instruments
Steel & glass plants
Chemical processing
Near boilers & steam lines

Polytetrafluoroethylene (PTFE)

+ Exceptional resistance to chemicals, oil, and moisture
+ Highly flexible
+ Usable in a broad range of temperatures (-73 to 204 °C)

Small gauges
Sensors
Petrochemical tanks
Life science
Military
Aerospace

Ethylene Tetrafluoroethylene (ETFE)

+ Excellent corrosion resistance
+ Amazing resistance to chemicals & high-energy radiation
+ High melting point
+ Resistant to electrical current

Spacecraft
Nuclear
Medical
Instrumentation
Datacom

Ethylene Chlorotrifluoroethylene (ECTFE or Halar)

+ Superior strength
+ High chemical resistance
+ Very flexible
+ Can be extruded & braided for extra wear resistance

Aerospace
Near engines
Submerged or buried metal structures

Fluorinated Ethylene Propylene (FEP, Variation of Teflon)

+ Excellent electrical insulation properties
+ Resists UV and chemical/oil damage
+ Extremely flexible
+ Resists flames & heat
- Very expensive

Extreme conditions
Temperature sensors
Oil & gas TEC cable
Military RG316 coaxial cable
Aviation & aerospace

Polyvinylidene Fluoride (PVDF)

+ Low cost
+ Lightweight
+ Flexible
+ Flame resistance meets UL910 guidelines for plenum cables
+ Heat-resistant

Industrial power control
Aircraft
Electronics
Pipelines & oil tanks
Marine craft
More on Commonly Used Insulating & Jacketing Materials for Cables
Performance-minded engineers usually stick with thermoset cables in applications where failure isn't an option. Some of the most extreme environments may require a unique fluoropolymer material.
That said, there are other, less-common materials under all three main branches. Basically, there's a solution for any industrial application you could dream up.
Not every cable and wire manufacturer offers all of these materials. However, manufacturers who also offer distribution services can source the cable types they don't make in-house.
If you're ready to explore options, try searching for your favorite cable manufacturer to see what it offers. Or check out our other learning resources on industrial design with cable and wire:
No Comments Yet
Let us know what you think