UL 508A Control Panel Design Guide [E-Book]
Why not use the same panel engineering strategies the certified builders use?
Industrial control panel manufacturing is highly engineered and highly manual – it's more than just slapping together an enclosure to house some wires and fuses. A successful build requires serious know-how and careful planning to develop an interface that can efficiently manage your operation.
This free e-book, Guide to Control Panel Engineering, will empower you with practical advice straight from UL 508A control panel designers. You'll learn how quality, safety, production speed, operation, and durability are impacted by your choices in:
Layout
Wiring
Components
Enclosure
The guide will also help you navigate important industry regulations and the pros and cons of insourcing or outsourcing each project. To hear how the experts are able to deliver zero-defect results, fill out the brief download form on this page.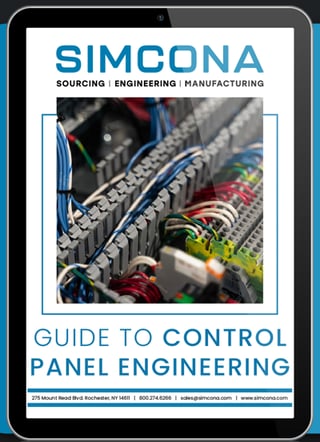 Complete the form to get your copy of the Panel Design Guide today!
What's Inside: Your Guide to UL-Friendly Control Panel Design


A UL 508A industrial control panel protects you, your investment, your company, and your end user.

By following the advice in this guide, you can:
Ensure continuous production
Avoid costly rework & recalls
Reduce safety & legal risks
Meet tough demands for industries like automation, energy, & transportation
Protect your operation by completing the download form above.